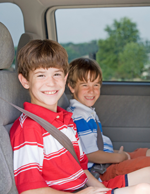 We will be closed for the following holidays: School Holidays, Labor Day, Thanksgiving Break, Christmas Break, New Year's Day, Memorial Day, and Independence Day.
Contact Student Shuttle, Inc. for exact dates of holidays and any additional closings.
No portion of your weekly charge or outstanding fees will be refunded or cancelled in the event of absence, sickness, holiday, school closings, or cancellation of this agreement with Student Shuttle, Inc.
About our Vans
Vehicles are checked daily
Vehicles are equipped with safety belts
Vehicles are marked with Student Shuttle, Inc. logo making them easily identifiable
All vehicles that represent Student Shuttle, Inc. are inspected & maintained weekly and ALL are a "NON-SMOKING ENVIRONMENT"
About our Drivers
Driver´s DMV / Driving histories are checked
Driver´s Criminal histories are checked
Drivers are checked against the Sex Offender Database
New Drivers are personally referred through other Student Shuttle, Inc. drivers, we do not hire drivers that we do NOT know personally!
All Student Shuttle, Inc. drivers are mature women with extensive training and experience with children.